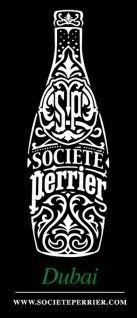 I was asked by Societe Perrier, to be one of there Luminaries… Now I know you are thinking Clare what the F are you talking about you crazy wench!
Societe Perrier, is a blog / website that is the global enthusiast's source for engaging contents and great events. Art, Night Life, Fashion, Travel, Mixology and Cocktail Culture. In every great city, they choose Luminaries which they feel represents Societe Perriers ideals and let us be the editors and write entries.
How tre fabulous is that! 
I was interviewed by Societe Perrier check it out;
Better Know A Blogger: Clare and The City
Posted on:

OCTOBER 23, 2011

Filed under:
Share on Facebook
Share on Twitter
Email to a friend
Société Perrier Dubai Luminarie and ball's out blogger Clare and The City tells us why being an oddity is great and what inspires her to mud-wrestle.
Why did you start blogging?
I saw a missing link in the UAE Blog-aphere, there were plenty of fashion blogs and blogs written by Jumeriah Janes but not to many blogs about events, parties where to go, the cool kid scene and random High – Larious. Another reason I started to blog was to blag my way into the VIP / A lister parties, which being a blogger is only half the battle, anyone can create a blog but that doesn't necessarily mean you can blag your way in the the "cool kid crowd." Lucky for me I'm a complete odd ball, which Dubai's 'It Crowd" was missing, so they welcomed me with open arms.
To be a successful blogger you need to connect with the reader, other wise no one will be interested
There's all sorts of bloggers and blogs in Dubai, including vlogging! Do you think the scene is over saturated?
Who am I to judge the masses? That's the great thing about the Internet, it gives you a chance to connect with strangers to give your thought and opinions, without being censored. In saying that I have come across some UAE "Bloggers" in which their blog consists of press releases and images. To be a successful blogger you need to connect with the reader, other wise no one will be interested to read your blog.
What does it take to get started with a good blog and get people interested?
To have a successful blog you need to find a niche in the market and talk about topics of interest to you. Sometimes I will post the most random thoughts on my blog and people seem to relate to it. I also threw "Clare and the City" ladies nights (free cocktails, candy, bubbles, massages, paparazzi etc.) because I would receive emails from girls wanting to know the best "Ladies Nights" in Dubai, as they were sick of the same "champaign and sleazy guys." I also partnered up with a couple of products and started competitions.
Which of your posts are you most proud of and why?
I couldn't tell you which blog post I am most proud off, though my favorite blogs posts are the posts I do about the VIP parties. The reader can come to the party with me via my blog, I feel like it gives an insight to the other side of Dubai. I think I resonate in people as well, because of my ability to make fun of myself and not care what people think of me (perfect example if me pole dancing at an event).
What is the best part of being Clare in The City?
The best part about being "Clare and the city" is being able to let my crazier odd ball side out even if it is just at parties and via my blog. Usually I kept my alter ego hidden, only to come out when the word vodka and mud wrestling was mentioned.
http://societeperrier.com/dubai/2011/10/23/better-know-a-blogger-clare-and-the-city/

I'm tre excited to write my first entry, I'm thinking of trying to go to every single ladies night on a Tuesday and documenting my exploits. From the classy champaign and high heel events to the down and plain dirty ones like rock bottom!
Check out the Societe Perrier Facebook to keep up to date on all the entries, and meet the other Luminaries! 
4 notes
Posted on Tuesday November 8th
clareandthecity posted this