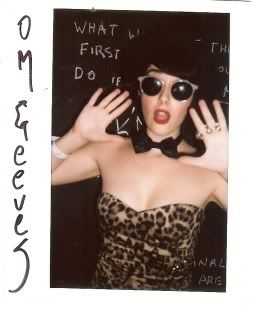 As most of you know, Stoli Emirates has been sending all the cool kids to Stoli Original Parties as they were holding a competition for "Emirates Most Original" 
I actually got picked for the final 7 and had to submit a video, talking about why I should be chosen as Stoli's most original. 
In my video I talk about, not possessing any talent yet still fooling people into taking me serious / inviting me to parties / making a living of having no talent!
On a more serious note, the winner wins a trip to LA, where he or she gets to go to the Play Boy mansion… OMGeeves!!! All I can do is imagine myself frolicking with the fake breasted, fake haired bunnies, they'll all be wearing pastel colors (or nothing at all) I'll be dressed appropriately in black, where hopefully if I'm lucky, I'll meet an aging billionaire (Pfft anyone could be a millionaire) who takes a "special" liking to me, then get him to buy me what ever I want…..
Now the only way I'm going to achieve any of this, is if YOU vote for me… As of today I am currently ranked 5th out of 7 people, this competition also finishes on the 15th of November, that 5 days and counting!
To vote for yours truly, go to;
https://www.facebook.com/StoliEmirates?sk=app_109690879121757
After you have liked the page and confirmed your over 21, click on my video (Clare Geeves) and like that bad boy…..
Oh Yhea Play Mates Oh Yhea…
Posted on Thursday November 10th