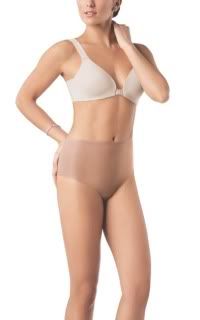 Without a doubt K-Lynn is one of my all time favorite stores to buy, the things you never knew you needed (or how you lived without). From SPANX to foam sticky things, that are used to cover your nips, when wearing a sheer dress, that you can't wear a bra with (I used to use band aids).
Every week in store, K-Lynn will be showcasing their, Festive Fashion Solutions throughout out December, in the boutique windows. You can see a mannequin showing how to solve those tricky outfit dilemmas i.e.: Backless, Strapless, Plunging Neckline.
What I also LOVE about this campaign, is they welcome you to bring in your tricky outfits during December, which they can help you come up with a solution + you will also receive 15% off your purchases (they also throw in a little 'Festive Fashion' gift).
What I learnt at K-Lynn this Festive Fashion month is, there are little cute plastic straps you can use, to transfer your normal bra, into a cross over bra. Now all I need to do is start wearing bra's and I will be set!
4 notes
Posted on Tuesday December 13th
deniseas4445 likes this
clareandthecity posted this