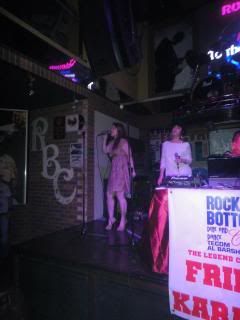 With my birthday looming, I was still at a loss what to do for my impending birthday celebrations. Not wanting to go down the same route, as my friends where we go to a brunch spend lots of cash, get completely wasted (well I always did), then go home and feel hungry again. I wanted to do something entertaining and cheap, where nobody felt obliged to fork, over 300 - 500 dhms.
It was when I was complaining to a friend of mine, she mentioned the idea of Karaoke which I knew straight away was the perfect choice! Being a fan of Rock bottom Tecom, I almost cried when I found that they did karaoke on a Friday.
Loving the fact that I didn't have to dress up, wear make up or heels (which due to my media who*ring I have to do almost every day) I walked into rock bottom, savoring the cement floors and tacky decor…. I was home!
The usually crowded RB was subdued, with bean bags on the floor with people getting up and singing. Some were absolutely terrible (one of them where part of my party) some were amazing and some (me) got up there and did the shuffle… But we all had one thing in common we all got a shot, on the house when we finished our performance!
Once the karaoke had been finished, we were nicely lubricated thanks, to the many shots and birthday drinks I was being feed. 
Through out the night, free shots were given to the girls, we got up and danced to the live band playing Lady Gaga and Katy Perry, I had flip flops on, I even got up on the bar (though I was told to get off).
Rock Bottom Tecom on a Friday night, is definitely the place to go to, if you want to have a simple no frills, relaxing night. I can guarantee you will NEVER have a bad time at Rock Bottom!
3 notes
Posted on Sunday December 18th
internetkaraokeparty likes this
clareandthecity posted this